If you're living in a dreary urban jungle, then it makes sense that the idea of living in a tropical paradise is a big temptation. Of course, Hawaii comes to mind since it's part of the U.S. making the move simpler without having to go through all the immigration laws and the stress of migrating to an entirely new country and culture.
Hawaii is about 2,500 miles off the coast of California and that pretty much gives it a whole culture of its own. Sure it's one of the 50 United States, but that doesn't mean you'll expect things to be the same as on the mainland. You would be culture shocked if you didn't come prepared.
Sure you'll get to lounge on gorgeous beaches, take Instagram-worthy ocean sunset pictures, and enjoy a tropical climate with margaritas in coconuts. But that's just for the first couple of days or weeks if you get to last that long. Living on an isolated island does have its piece of heaven moments but when you get down to it it also has some major concerns that need to be fully comprehended before you consider making a move.
1. Incredible Weather
Hawaii is a tropical island, but that's not even half of it. The truth is that Hawaii has about 11-13 sub climates depending on which island you're on. Some having multiple sub climates such as in Mauna Kea of the Big Island that gets snow at its peak. Otherwise, you can expect a pretty dry 80F average all year round. This means that the flowers are always in bloom. Plus, it's always perfect weather on an island paradise with all the beach activities that are always available on any of its islands.
On the flip side, this also means that there aren't any seasons to speak of. With a stable climate throughout the year, you're going to miss the fall, spring, and winter if you come from any of the other states that have changing seasons. Some residents would recommend taking a trip to the mainland every so often, just so you don't get bored of the monotonous weather.
The worst thing about Hawaii's weather is that some islands will experience rainfall intermittently; it's like random summer showers but practically every day. Many locals are so used to it that bringing an umbrella doesn't even matter anymore since it stops just as easily as it starts.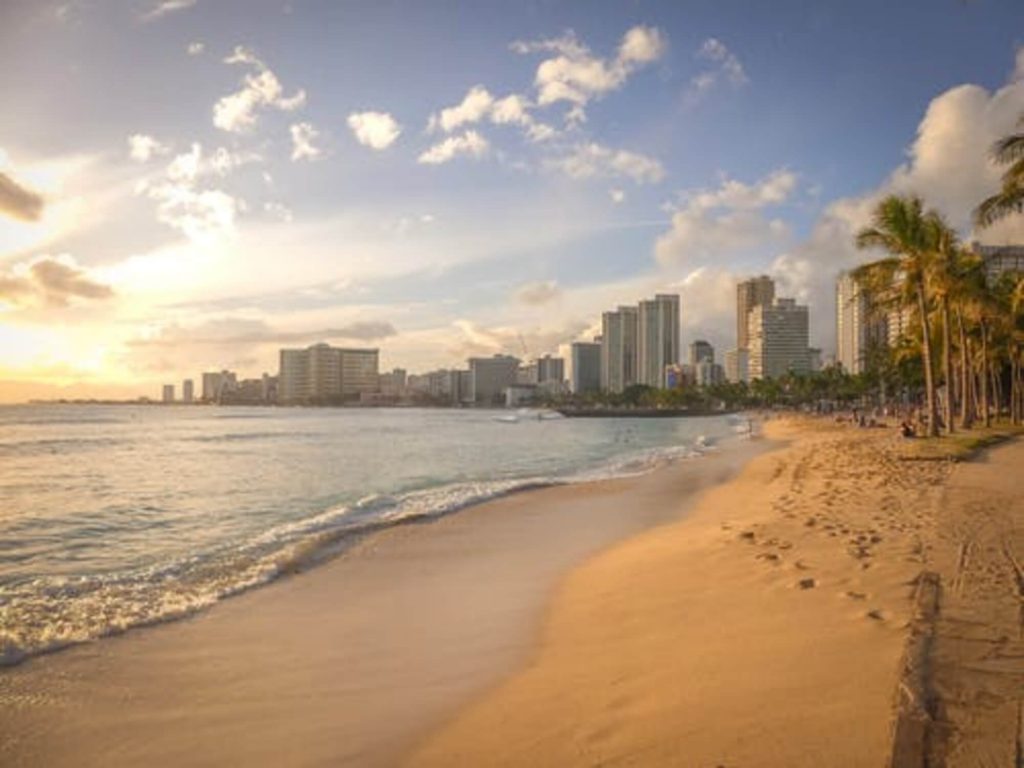 2. Quiet Isolation
With thousands of miles of the Pacific Ocean in all directions, it's a wonder that a bustling metropolis such as Honolulu exists in the middle of seeming nothingness. That's what gives Hawaii so much of its charm because even though it's pretty much isolated from all the other continents, you won't feel like you're missing out on the world. It has most of the luxuries of a first-world country. Just don't expect to get stuff on-demand because as an island it does take a while for things to arrive.
The beauty of island living is that it's so easy to get away from it all with beaches just a couple of hours away and a host of other outdoor activities at the doorstep of every city. Everyone knows the six major islands of Hawaii but on top of that, there are hundreds of uninhabited islands as well that are perfect for exploration or some personal isolation.
The drawback though is that Hawaii's infrastructure is far from complete. Of course, the major cities and tourist spots, are specifically designed to cater to outsiders looking for a good time, so you'll find everything you need. However, once you start moving away from these areas you'll find everything from the water supply, trash collection, and even mail delivery to be a hassle.
3. Hawaiian Time
One of the first things you'll notice about Hawaii is that it's slower-paced, especially if you come from an urban hotspot like New York, Los Angeles, Chicago, and the like. Residents are very laid back, sometimes to a fault. Which is a good thing if you need a breather from the high pace of today's world, but that also means things that are almost instantaneous on the mainland can take a while on the islands.
No one is in a real rush, and everyone loves it that way. It'll take a lot of getting used to if you're coming from a city with a lot of hustle and bustle, but if you can bear it you'll find there's a big advantage to stopping and smelling the roses. For one, Hawaiians have more emphasis on family and relationships than getting ahead, not to say that locals are completely non-material but it's not so prevalent compared to other places.
Hawaiians want to have a good time rather than work 14-hours shifts, of course, that's not always a good thing either. Everything from construction to something as simple as a dental appointment will require some patience. Traffic is pretty bad too, but then again with the gorgeous sunsets, how can you complain?
4. Warm, Friendly, Indifferent
Hawaiians are wonderful people. A simple shaka can go a long way, and as long as you take the time to learn the customs and practices, you'll find yourself integrating into the laid-back island life with ease. But you have to remember that you're not on the mainland anymore, you're in Polynesia and that means that you need to remember to be respectful of the culture.
Locals are very warm, loving, and friendly but you will encounter some indifference from the more native residents, especially from multi-generational families that have lived on the islands for decades or even centuries. The influx of tourism and foreigners moving in has become somewhat a point of contention for some natives. That's not to say you'll be treated as an outsider forever, eventually, you'll be accepted as a resident just not as a true Hawaiian.
Hawaii is a gorgeous slice of heaven in the middle of the Pacific Ocean and it's a wonderful palace to live in and raise a family. But like anywhere else in the world, it's not really for everyone. It has its own culture and complications that you'll have to learn to adapt to, but once you do you'll find your place in island paradise.